UEIL Sustainability Committee – An overview
UEIL has established a Sustainability Committee, with the intention of providing guidance to define, develop and measure sustainability in the European lubricants industry, to address misconceptions on the industry's sustainability capacities, and to take part in the ongoing discussions on sustainability at EU and international level.
With a clearer strategy on sustainability, UEIL could be more proactive in defending the reputation of the sector on this matter, showcase the value it brings to the environment, society and governance, and lead the whole lubricants value chain to become more sustainable.
A Sustainable Lubricants Industry
In March 2019, the UEIL Board set up a Sustainability Task Force under the leadership of Apu Gosalia (FUCHS) to develop and define exactly what sustainability means for the European lubricants industry, in words that are simple and easily communicated within both our industry and to external stakeholders.
Task Force member companies: BASF, Blaser Swisslube, Bosch, Croda, Evonik, FUCHS, Itelyum, Lanxess, Neste, Nowal Chimica, Nynas,Q8, RS Clare and Yacco.
For those of us who work in the lubricants industry and those industries that use our products, it is clear that the world as we know it today would not exist but for the use of lubricants. It is fair to say that few in our global society pay much attention to lubricants and the role that they play. It is only when things go wrong that lubricants are belatedly appreciated.
As an industry we drive growth and innovation. We care about our impact on people and the environment, but also our economic impact; the 3 pillars of sustainability. It is with this in mind that the Task Force came to define sustainability in the context of lubricants as:
Lubricants created by innovative businesses enabling the use of safe, resource saving technologies and processes which reduce the burden on the planet, local environments and benefit people and society.
Reflecting the uniqueness of the lubricants industry, the Task Force identified three priority sustainability pillars:
• Environment
• Health and Safety
• Society and Economy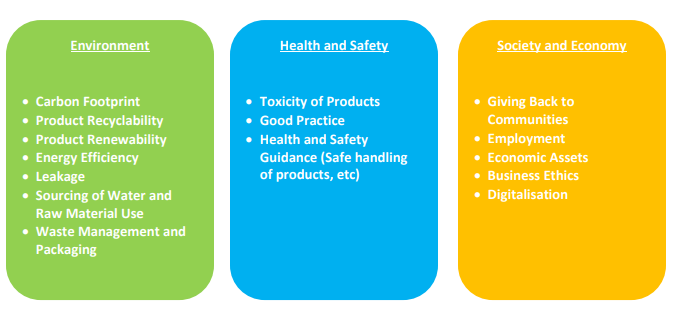 As an industry we must be living proof that we are more than just words and that there is a real-world benefit from the application of lubricants and the way in which we operate. Taking the 17 United Nations Sustainable Development Goals (SDGs) as its point of reference, the Task Force identified 4 SDGs which the Lubricants Industry already contributes hugely and will do so increasingly in the future.

UEIL Sustainability Committee
Having met its objectives, the Task Force was replaced in June 2020 by a Sustainability Committee and is now chaired by Dr Christine Fuchs (VP Global R&D at FUCHS PetrolubSE).
The UEIL Sustainability Committee is comprised of representatives from National Lubricant Associations, companies who were originally Task Force members along with some special advisors.
ATC, ATIEL, Avia-Bantleon, Blaser Swisslube, BVA, CSNIL, EKO ABEE, Fedechimica – Gail, GEIR, LAB, LPC, Nynas, Opet Fuchs, POPiHN, Tayras, UKLA, UNITI, VSI, VSN and VSS. Additional advisors will be introduced as and when required.
Objectives and structure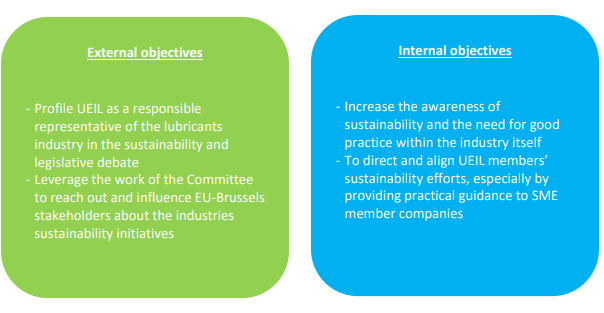 To deliver against these objectives, the UEIL Sustainability Committee has overseen the formation of two environmental working groups (Carbon Footprint and Energy Efficiency) and a Society and Economic working group (including Product Recyclability). The working groups have been established against a background of life cycle assessment (LCA) and the principles of a circular economy.
The UEIL Committee has also formed a Sustainability Communications Working Group.
It should be noted that the existing UEIL Health, Safety & Environment Committee and GEIR are closely aligned with the Sustainability Committee and working groups.

For more information on the committees, click on the titles below. For more detailed information about UEIL's sustainability mission, please consult this document.
Environment Working Group – Carbon Footprint
The carbon footprint working group consists of two subgroups: "Subgroup Pre-chain", focusing on raw materials, and "Subgroup Production & Logistics" with a focus on the carbon footprint from gate supplier to door final customer (first-tier).
The Pre-Chain Subgroup will analyze and provide a calculation scheme to enable members to provide information regarding their carbon footprint on raw materials.
The Production & Logistics Subgroup will elaborate and provide UEIL members with a hands-on approach (tool-box, checklist, etc.) to measure and reduce carbon footprint along their Supply Chain.
Both groups intend to ensure the CO2 footprint calculation follows globally-accepted standards based on an acceptance by relevant stakeholders (OEM´s, ATIEL, ATC, key customers and their associations), legislative rules and internationally accepted standards.
Environment Working Group – Energy Efficiency
The energy efficiency working group will highlight the in-use benefits of lubricants in multiple applications through the collection of case studies and testimonials. The working group will advise on test methods and define guidelines for measuring energy efficiency of lubricants, product lifetime improvements and other performance benefits.
Communications Working Group
The communications working group will oversee the development of a UEIL Sustainability manifesto and communications tool-box. Moreover, as part of its society and economy related responsibilities, it will identify and communicate on different corporate reporting schemes which can be used by member companies.