Go back
23rd ICIS World Base Oils Conference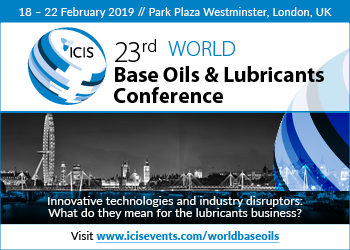 The 23rd World Base Oils & Lubricants Conference will take place on 18-22 February 2019 in London and will focus on "Innovative technologies and industry disruptors: What do they mean for the lubricants business?".
With nearly 40 speakers, 680+ attendees and more than 10 hours of networking available, over what is now dubbed as 'Base Oils Week', ICIS' flagship base oils event is the meeting place for the base oils and lubricants industry, and an event not to be missed!
Representatives from Fuchs Petrolub SE, Chevron Corporation, Shell and Nissan Motor Co. Ltd are part of the speaker line-up, discover the full speaker list here: http://bit.ly/2FhHGk2.
BASF SE, Chevron, ExxonMobil, Honeywell UOP, Multisol, Nynas AB have already secured their place for this year's meeting, download the attendee list to find out who else you might be able to network with! http://bit.ly/2EysoG7
Register for your place online with promo code WBO19ONUEIL: http://bit.ly/2peMcoy.