Wednesday 24 – Friday 26 October 2018
Budapest, Hungary
For the last 54 years, UEIL has held its yearly Annual Congress in October, offering a unique opportunity to players in the European and global Lubricants industry to meet and network, strengthen their relationships, and learn more about the latest developments from a technological, economic, marketing and regulatory perspective.
The +/- 250 Delegates, decision makers in the sector, traditionally come from over 20 countries, including participants from Europe, the US, Asia and Africa, and represent various sectors within the Lubricants industry, and in particular:
Base oil and lubricants producers
Additive companies
Technology services companies
Lubricants blenders
Regulators
Programme
'The lubricant industry: embracing the future'
Have a look at our provisional programme here!
Fees and Registration
Registration will open on 1st June, stay tuned!
Terms and conditions
FEES: All Delegate fees are inclusive of lunch, refreshments, conference documentation and attendance to the Opening Reception and Gala Dinner.
VAT: Under EU Customs and Excise Regulations Delegates are required to pay VAT on any conferences taking place within the EU. All fees are subject to Hungary VAT. Delegates may be entitled to reclaim this cost.
For further information please contact our VAT consultant European VAT Desk: Place Constantin Meunier 20/6 1190 Brussels, Belgium – Tel:+32.2.351.26.00 / www.vatdesk.eu
CANCELLATIONS: Any cancellation must be communicated in writing not less than 10 working days before the event and will be subject to an administration charge of €100 for the delegate conference pass. Partners' cancellation fees is €50. We regret that no refunds will be made for invoices cancelled after this time and the full registration fee will be payable. Substitutions may be made at any time.
DATA PROTECTION: All the information collected for the UEIL Congress 2018 is confidential. The data will be held on a database and will be owned by UEIL for the purposes of running the Congress. UEIL will not share this information with any third parties for either commercial or other reasons. Should your personal data need to be updated, you can access it upon request. Your details will not be made available to external companies for marketing purposes.
FORCE MAJEURE: 'Force majeure' frees both parties, the delegate and the organizer, from the contractual responsibilities of this agreement. Force majeure includes: e.g. war, military occupation, riot, strike, total collapse of the provision of supplies, total suspension of air traffic (except in the case of adverse climatic conditions and strike).
TRAVEL INSURANCE: Delegates are advised to procure their own personal and travel insurance.
Hotel and accommodation
Guest Rooms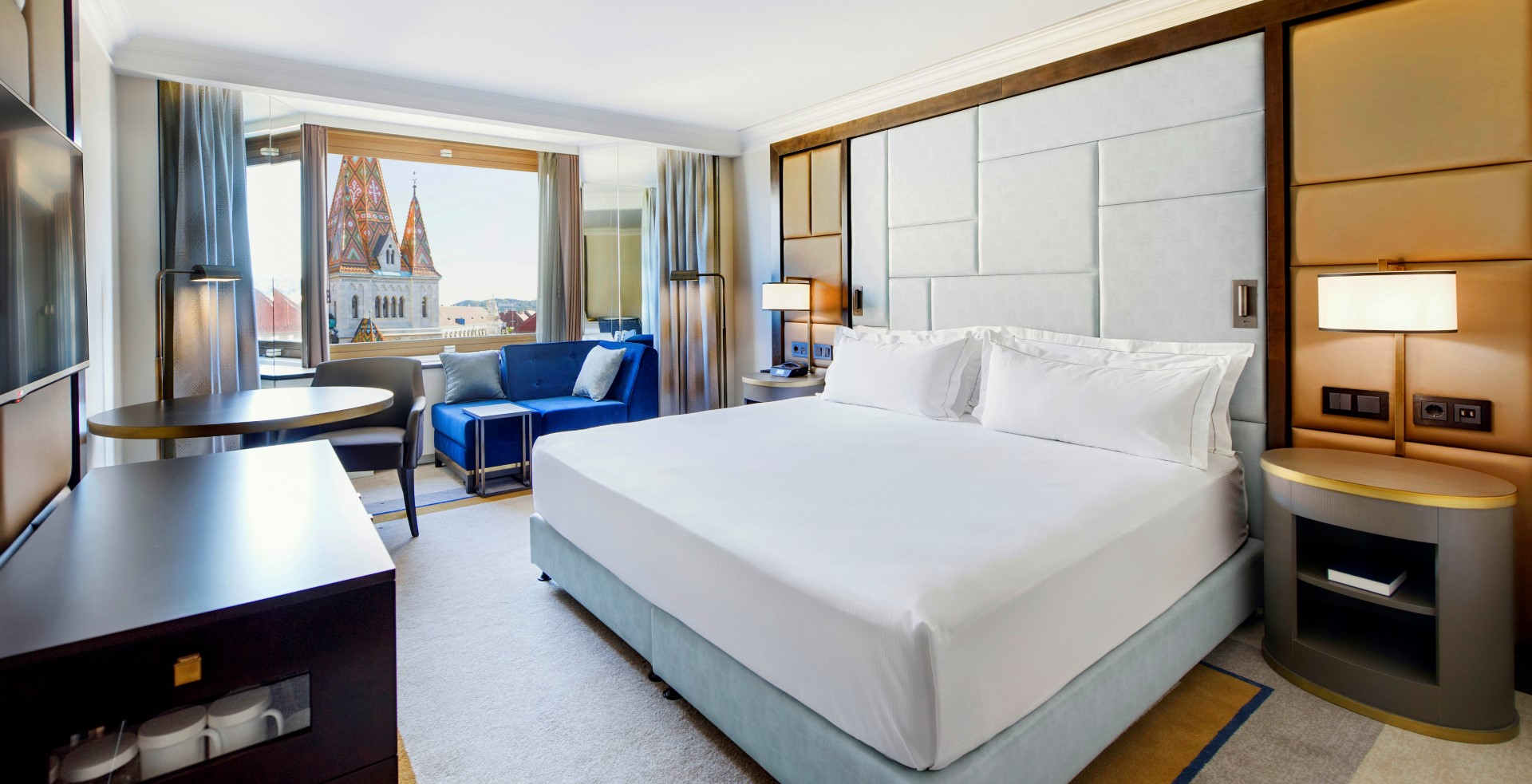 Stay at Hilton Budapest and have it all! A central location, stylish guest rooms, and gorgeous views of the historic city and River Danube. The hotel has recently renovated all superior and executive rooms and public spaces. It is located in the Royal Castle District, a UNESCO World Heritage Site.
Hilton Budapest is on the Buda side of the city, next to Matthias Church and Fisherman's Bastion. It is very close to the Buda Castle, Budapest Historical Museum and the Hungarian National Gallery. Cross the famous Chain Bridge and explore Pest's city center – the walk takes just 15 minutes.
For more information, click here.
Features & Amenities
Feel at home in newly renovated guest rooms with features including a separate bathtub and walk-in shower, a 42-inch HDTV, USB ports and media hub. Enjoy in-room tea and coffee making facilities and luxurious bath products. Select a river-view room to enjoy stunning vistas of the Danube and the city!
Reservation
A special conference rate is bookable until 22 September 2018, but rooms quantity is limited so make sure you book your own! The cost per room/night (single use) varies from 195€ to 270€.
Should you need to cancel your reservation, please do so up until 72 hours prior to arrival in order to avoid cancellation fee.
For more information and to book your room, please click here.
Sponsorship
Have a look at our sponsorship brochure! Should you be interest by our offers, please do not hesitate to contact us! (Sévrine Pereira Teixeira – info@ueilcongress.org)