Wednesday 24 – Friday 26 October 2018
Budapest, Hungary
LOCATION
Hilton Budapest
Budapest, Hess András tér 1-3, 1014 Hungary
For the last 54 years, UEIL has held its yearly Annual Congress in October, offering a unique opportunity to players in the European and global Lubricants industry to meet and network, strengthen their relationships, and learn more about the latest developments from a technological, economic, marketing and regulatory perspective.
The +/- 250 Delegates, decision makers in the sector, traditionally come from over 20 countries, including participants from Europe, the US, Asia and Africa, and represent various sectors within the Lubricants industry, and in particular:
Base oil and lubricants producers
Additive companies
Technology services companies
Lubricants blenders
Regulators
Hilton Budapest
Budapest, Hess András tér 1-3,
1014 Hungary
How to get there
Set in the heart of the Royal Castle District, this Budapest hotel rests on the Buda side of the city, just steps from Matthias Church and Fisherman's Bastion.
From the Airport, you can use the Hilton Budapest pick-up service (fee applies) – advance booking required at +36 1 889 6622 or budhi.concierge@hilton.com giving arrival date, time and flight number. The driver is waiting for guests at the airport arrivals hall with a sign.
Alternatively, there is a Minibus service operated by the Budapest Airport – they can be found in the airport arrivals hall. With public transportation you can take bus NR200, change to metro NR3 at Kobánya Kispest and take bus NR16 at Deák Ferenc square. Public bus NR16 conveniently connects the hotel with the city center Deák Ferenc square and with Buda side transportation hub Széll Kálmán tér.
Please note that car traffic is limited in the Castle District to preserve its historic heritage. Guests of Hilton Budapest are allowed to enter the Castle Area by validating the parking ticket at the Front Desk of the hotel. Visitors can leave the protected area free of charge within 15 minutes of their entry at the same gate. Parking on the street with validated ticket costs HUF 525/EUR 1.81 per hour. Hilton Budapest offers a secured and convenient underground garage for HUF 900/EUR 3.10 per hour or HUF 9900/EUR 34 per day.
Fees and Registration
The 2018 UEIL Annual Congress will be held in Budapest (Hungary) from 24 to 26 October!
Join us in Budapest!
For further information, contact us @ info@ueilcongress.org
REGISTRATION FEES
Congress fees

Until 01 Sept. 2018

After 01 Sept. 2018

Full Congress
€785.00 + 27% VAT if applicable
€895.00 + 27% VAT if applicable
One-Day Congress
€620.00 + 27% VAT if applicable
€725.00 + 27% VAT if applicable
Gala Dinner
€99.00 + 27% VAT if applicable
Speaker ticket
Free
Full and one day congress fees for delegates include the Welcome Dinner on  Wednesday 24 October and the Gala Dinner on Thursday 25 October.
Prices indicated above do not include 27% Hungarian VAT
Please note that hotel accommodation is not included in the conference fee
Terms and conditions
FEES: All Delegate fees are inclusive of lunch, refreshments, conference documentation and attendance to the Opening Reception and Gala Dinner.
VAT: Under EU Customs and Excise Regulations Delegates are required to pay VAT on any conferences taking place within the EU. All fees are subject to Hungary VAT. Delegates may be entitled to reclaim this cost.
For further information please contact our VAT consultant European VAT Desk: Place Constantin Meunier 20/6 1190 Brussels, Belgium – Tel:+32.2.351.26.00 / www.vatdesk.eu
CANCELLATIONS: Any cancellation must be communicated in writing not less than 20 working days before the event and will be subject to an administration charge of €100 for the delegate conference pass. Partners' cancellation fees is €50. We regret that no refunds will be made for invoices cancelled after this time and the full registration fee will be payable. Substitutions may be made at any time.
DATA PROTECTION: All the information collected for the UEIL Congress 2018 is confidential. The data will be held on a database and will be owned by UEIL for the purposes of running the Congress. UEIL will not share this information with any third parties for either commercial or other reasons. Should your personal data need to be updated, you can access it upon request. Your details will not be made available to external companies for marketing purposes.
FORCE MAJEURE: 'Force majeure' frees both parties, the delegate and the organizer, from the contractual responsibilities of this agreement. Force majeure includes: e.g. war, military occupation, riot, strike, total collapse of the provision of supplies, total suspension of air traffic (except in the case of adverse climatic conditions and strike).
TRAVEL INSURANCE: Delegates are advised to procure their own personal and travel insurance.
Programme
'The lubricant industry: embracing the future'
Gala Dinner
Join us on Thursday 25 October for an unforgettable experience at the Pesti Vigadó (Concert Hall)!
Hotel and accommodation
Guest Rooms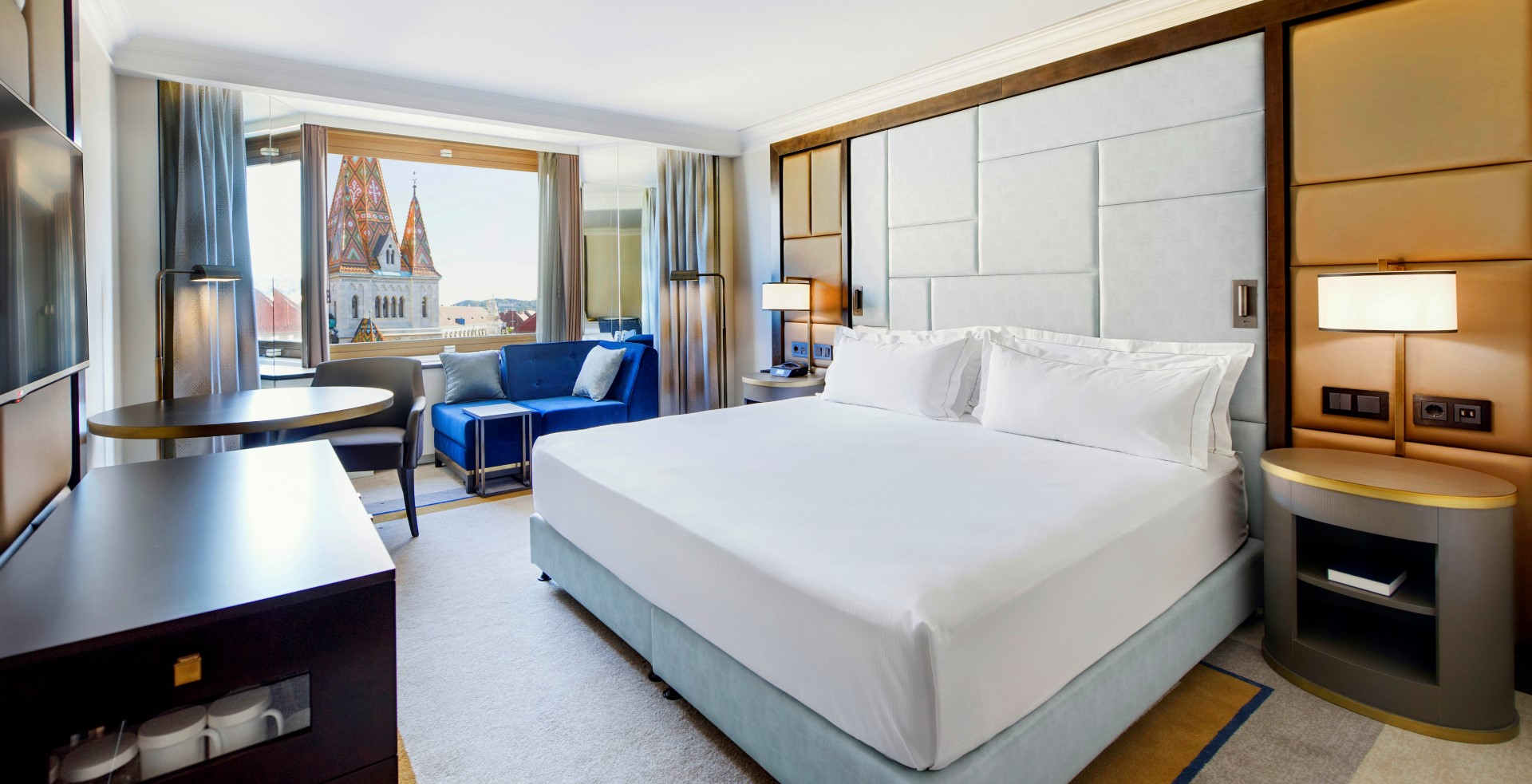 Stay at Hilton Budapest and have it all! A central location, stylish guest rooms, and gorgeous views of the historic city and River Danube. The hotel has recently renovated all superior and executive rooms and public spaces. It is located in the Royal Castle District, a UNESCO World Heritage Site.
Hilton Budapest is on the Buda side of the city, next to Matthias Church and Fisherman's Bastion. It is very close to the Buda Castle, Budapest Historical Museum and the Hungarian National Gallery. Cross the famous Chain Bridge and explore Pest's city center – the walk takes just 15 minutes.
For more information, click here.
Features & Amenities
Feel at home in newly renovated guest rooms with features including a separate bathtub and walk-in shower, a 42-inch HDTV, USB ports and media hub. Enjoy in-room tea and coffee making facilities and luxurious bath products. Select a river-view room to enjoy stunning vistas of the Danube and the city!
Reservation
A special conference rate is bookable until 22 September 2018, but rooms quantity is limited so make sure you book your own! The cost per room/night (single use) varies from 195€ to 270€.
Should you need to cancel your reservation, please do so up until 72 hours prior to arrival in order to avoid cancellation fee.
For more information and to book your room, please click here.
Sponsorship
Have a look at our sponsorship brochure!
Should you be interest by our offers, please do not hesitate to contact us! (Sévrine Pereira Teixeira – info@ueilcongress.org)
Our sponsors

Chevron Base Oils, a division of Chevron Corporation, provides a global slate of premium Group II base oils. Our technically substitutable base oils, produced at multiple plants are made available from a network of regional supply hubs centrally located near the world's largest lubricant markets. Our base oils are suitable for more than 90% of the world's formulating needs for automotive and industrial lubricants. We work closely with lubricant manufacturers, additive companies, original equipment manufacturers and industry groups such as API, SAE, ILSAC and ACEA to advance industry standards that protect engine performance while enabling environmental compliance for new engine designs.Chevron Corporation is one of the world's leading integrated energy companies, with subsidiaries that conduct business worldwide. The company's success is driven by the ingenuity and commitment of approximately 62,000 employees who operate across the energy spectrum. Chevron explores for, produces and transports crude oil and natural gas; refines, markets and distributes transportation fuels and other energy products; manufactures and sells petrochemical products; generates power and produces geothermal energy; provides energy efficiency solutions; and develops the energy resources of the future, including biofuels and other renewables. Chevron is based in San Ramon, California. More information about Chevron is available at www.chevron.com.
---
Boosting innovation rooted in deep experience: Founded in 1954, Etivoet has now developed into a leading, innovative expert in self-adhesive labels on rolls. They are the European multilayer layer expert.
---
KEMAT Polybutenes is a privately held company founded in 1989, operating globally with an expanding portfolio.  It is the largest independent distributor of polyisobutylenes and related

products in the EMEA region.  The company has unparalleled experience and insights into PIB markets and applications with strong supplier relationships for more than 28 years. Having built up an expertise in the supply of additives to the lubricants industry, KEMAT has expanded over the years to supply a wide range of additives to a diverse customer base across a multitude of different industry segments. The international B2B team covers a broad range of expertise, from physics to chemistry, engineering to pharmaceutical science, management and logistics, all at a specialist level.  An internationally speaking company for an international market. As well as Polybutenes, KEMAT also distributes Poly Alpha Olefins and Natural Oils to different market segments such as Lubricants & Greases, Plastics & Rubbers, Sealants & Adhesives and Cosmetics. Offering Supply Chain Reliability, it has distribution centres in NL, BE, UK, FR, IT and TR with readily available stock across all grades: a wide range of high quality PIBs, bulk tank containers, IBCs and drum packaging as well as a drumming facility. KEMAT continues to build its strength and reputation on providing timely deliveries of high quality products at competitive prices and giving personal attention to both supplier and customer requirements. For more information, please visit www.kematbelgium.com
---
Pilot Chemical is a privately owned and independent global specialty chemical company providing high quality products and services to the metalworking and lubricant, household and industrial, personal care, oilfield, and emulsion polymerization industries. Pr

oprietary core technologies involve alkylation, sulfonation, sulfation and a number of other specialty operations. Pilot, an industry leader in chemical innovation and safety, owns the most state-of-the-art continuous sulfation process in North America and is the world's largest manufacturer of disulfonates. To learn more, visit  www.pilotchemical.com.
---
Zeller+Gmelin GmbH & Co. KG: The brand with the clear plus!
Zeller+Gmelin GmbH & Co. KG is an medium-sized, international, market leading manufacturer of lubricants, printing inks and chemicals. With the headquartered in Eislingen/Fils (near Göppingen) is the com

pany still family owned. With our 16 branches and subsidiaries worldwide we are well connected and delivery our products in more than 80 countries. Our high-quality products of the divisions industrial lubricants, Divinol lubricants for automotives, land & forestry and release agents, printing inks and chemicals internationally take a leading position on the market. We attach importance to individual and holistic solutions and offer research, development and production – everything from a single source – from expert source.
We understanding + providing solutions, this is what we have doing for more than 150 years. Because we understand our customers and create solutions – reliable, flexible and tailor-made. That´s something we owe to the quality of our work and of courses to the experience, expertise and passion of our employees.
These values we combine in our brand promise "EXPERTLY DONE."
Steelworks and car manufacturers rely on our products as we recognize the signs of the times. We have therefore developed systematically to become experts in lubricants – with over 700 premium-quality industrial lubricants offering the best proof of this. We work very closely with our customers to implement new expertise and ideas. By responding to your individual requirements with speed, flexibility and creativity: from product    development and in-house production as well as from the latest analysis laboratories to disposal. None of this would be possible without the perfect dovetailing of research and development, production and sales in our streamlined organisation.
A clear plus! www.zeller-gmelin.de